Post by Hachi on Jun 13, 2017 13:50:51 GMT -5
[nospaces]
[attr="class","dna2"]
[attr="class","title"]

Δ Tranquil Maiden's Cathedral
Hachi // Lvl 6 Blademaster


[attr="class","posty"]
[attr="class","posttext"]
Hachi was glad to be venturing with someone who had similar views to himself. It was about the adventure to him, the social aspect was also important because dealing with his social anxiety was most of the reason he started playing. But seeing a whole new world, multiple worlds far different from the one on the outside, the real world- it brought a whole new aspect to the preconceived concept he had about the game. It created something that made socializing less frightening and more exciting. There was a reason for it. Coming together to face challenges one might not find in the real world.[break][break]
Like this one.
"Wh-what?"
He seemed flustered by Lila's suggesting he be the lure in the pond that was the scary fog room.
"Oh, Lila, you're so mean.."
He spoke, half out of fear but mostly as a joke. Drawing his blade, Hachi lurked forward past the steam gunner as she got into position. His ears pinned themselves to the back of his head as the sounds grew louder. Walking into the fog, Hachi squinted. There was a large figure also moving within the fog, but it hadn't seemed to notice him. When it walked, it was slow and seemed to be dragging its knuckles along the floor. A chill touched his spine when the creature stopped and looked directly his way, a bright violet glinting within its head. Quickly, he straffed sideways before ultimately turning in a different direction. Though he didn't know it, he was heading towards the center of the room and before he knew it, fell forward.
"Ah, what was that?"
[break][break]
The feline had tripped, in fact, over a book laying on the ground emitting a thick fog.
"A grimoire..?"
Looking around for a moment, Hachi looked back to the book before reaching toward it and closing it gently. Within moments, the fog disappeared and the feline, not quite thinking through this action looked up to see not one, but two of the large figures revealed.[break][break]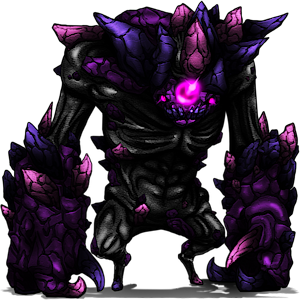 [break]
Pagemaster Golem x2 Lvl 5
[break][break]
The bright gems glistened within the heads of the two golems as they immediately turned to Hachi who quickly scrambled to pick up the book and run back to Lila. The golems groaned in anger as they made their way to the duo, heavy arms still dragging against the floor. Once Hachi was almost back to the doorway, he stopped short to set the book down and open it once more. Fog came spilling from the pages, filling the room once again. He stood close to Lila as he squinted through the fog. The glowing gems were still the most visable thing on the large figures lurking, but they seemed to stop and look around as if they had lost sight of the cat they were previously pursuing. Hachi sighed with relief.
"Maybe we can use this fog to our advantage.. Do you think you can still get a good shot in the fog? I might have an idea."
[break][break]
----------------------------------------
[break]
Player Stats
[break][break]
HP: 83%
SP: 88%
[break]
[attr="class","notes"]
tags
Lila
[attr="class","harjacredit"]
harja
[newclass=".dna2 *::-webkit-scrollbar,.dna2 *::-webkit-scrollbar-track,.dna2 *::-webkit-scrollbar-thumb"]border:0;background:transparent;[/newclass]
[newclass=".dna2 *::-webkit-scrollbar"]width:3px;[/newclass]
[newclass=".dna2 *::-webkit-scrollbar-thumb"]background:#ececea;border-radius:10px;[/newclass]
[newclass=".dna2 *"]box-sizing:border-box[/newclass]
[newclass=".dna2"]margin:auto;width:450px;height:350px;background:#212121;position:relative;overflow:hidden;z-index:2;font-family:'open sans';font-size:10px;color:#212121;[/newclass]
[newclass=".dna2::after"]content:'';position:absolute;top:0;left:0;width:100%;height:100%;background:url(http://s1.zerochan.net/Jubei.600.748942.jpg);z-index:-1;transition:.5s;[/newclass]
[newclass=".dna2:hover::after"]opacity:.7;[/newclass]
[newclass=".dna2::before"]content:'';position:absolute;top:250px;left:-40%;width:160%;height:100%;background:white;border-radius:100%;box-shadow:0 0 3px white;transition:.5s;[/newclass]
[newclass=".dna2:hover::before"]top:90px;[/newclass]
[newclass=".dna2 .title"]position:absolute;bottom:0;left:0;padding:10px 15px;text-transform:uppercase;transition:.5s;height:70px;transform:translatey(0);font-family:'raleway';[/newclass]
[newclass=".dna2 .title b"]font-size:25px;display:block;letter-spacing:-1px;[/newclass]
[newclass=".dna2 .title i"]font-size:12px;font-style:normal;[/newclass]
[newclass=".dna2:hover .title"]transform:translatey(-265px);color:white;[/newclass]
[newclass=".dna2 .posty"]position:absolute;bottom:10px;left:10px;width:430px;transform:translatey(230px);transition:.5s;text-align:justify;[/newclass]
[newclass=".dna2:hover .posty"]transform:translatey(0);[/newclass]
[newclass=".dna2 .posty b"]color:#cfa600;[/newclass]
[newclass=".dna2 .posttext"]height:220px;padding:10px;width:330px;overflow:auto;[/newclass]
[newclass=".dna2 .notes"]position:absolute;bottom:10px;right:0;width:90px;text-align:left;[/newclass]
[newclass=".harjacredit"]text-align:center;font-size:8px;font-family:arial;text-transform:uppercase;[/newclass]
[googlefont=Open+Sans:400,700][googlefont=Raleway:400,700]